Uplighting
Dance-floor lighting adds another energy level to any event and as a pro DJ service we want to use quality tools that can enhance our performance and stimulate audience interaction. One of the reasons people love to dance is because there responding to various stimuli, not only sound but lighting and the stimulus of other people having a great time! So lighting is a visual element that can help fill a dance floor and ensure that your guests will have an amazing time and that is something we all want to remember about our events.

We can provide a package of 12 or 24 Wireless Remote controlled LED Uplighting units which can be your color  theme during cocktails , a slow fade at dinner or multiple color sound activated sequences while dancing. Inquire about uplighting and elegantly illuminate your event!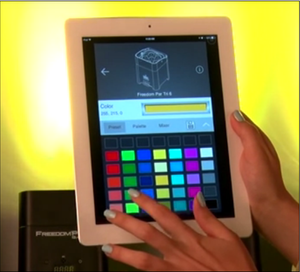 Elegantly Illuminate your event with 12 or 24 Uplights!
Mystique Entertainment uses uplighting units that may be dimmed or brighten to any environment or atmosphere. These units have rechargeable batteries that last up to 8 hours are cool to the touch all night and 100% wireless. They are  seamlessly and instantly controlled by an app that provides a rainbow of preset colors and a wide array of patterns that we can custom mix to our clients taste, event themes, and venues. 

For weddings we like to accomplish two things create a sense of elegance by illuminating walls & columns to warm things up and set an elegant tone for the introduction of an evening with colors that are rich , natural looking and compliment presentations.

 We can elegantly, and easily illuminate an area for 200 guests with 24 of these units to enhance the event, creating a stunning backdrop and providing a "WOW!" factor for guests upon entry. Mystique Entertainment lighting packages add distinction and class to any and every event - from wedding receptions to family reunions, graduations to holiday galas. Call us for pricing and to discover the many ways in which just the right package will make your event even more memorable!
*Freedom Par Quad 4 uplighting size: 5.4 x 5.7 x 7.2 in
Dancefloor LED lighting tree